Dear Friend,
2020 changed everything. We have all experienced its lasting impact. Words like "unprecedented" and "new normal" became so common, they lost their clout.
But one thing became crystal clear: We need one another.
The need for genuine, intentional community, especially in our churches and homes, became boldly apparent.
Over the past year, more and more churches have reached out to ReFocus Ministry to help them re-gather in a way that is intentionally intergenerational and courageously communal. In light of this need, ReFocus has made the decision to transition to a 501(c)3 non-profit ministry focused on journeying with churches and homes into connection and community.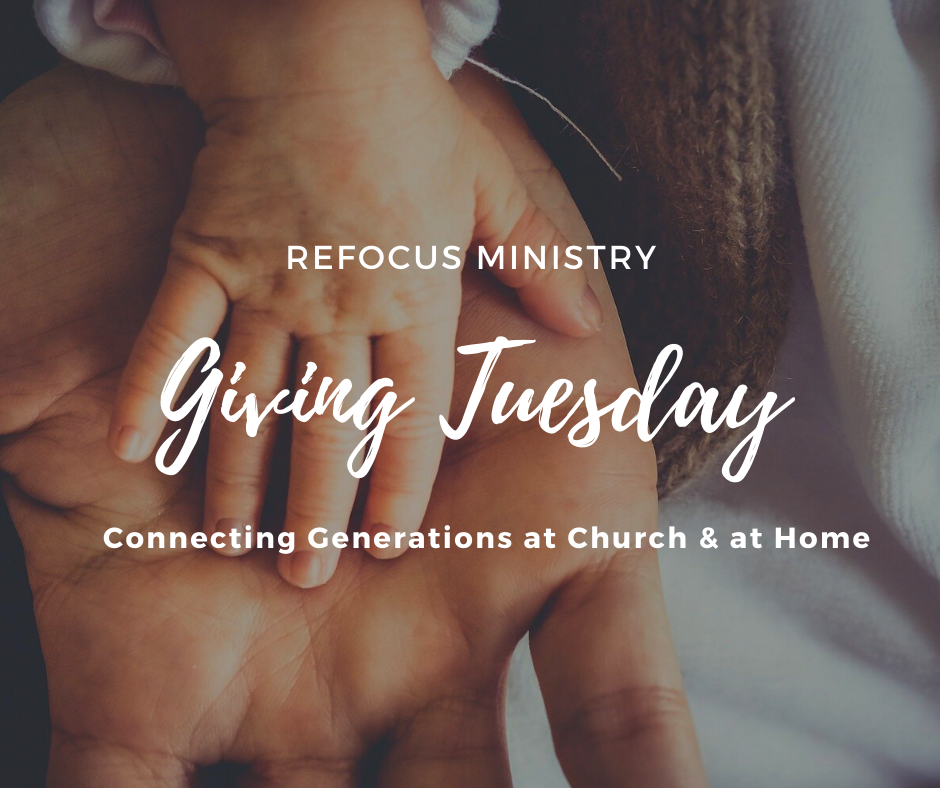 Today is Giving Tuesday and while we officially began our fundraising effort last week, we want to expand the opportunity to give to our entire blog base. As we work to take ReFocus from an individual operation to one that can make a bigger impact in our faith communities, we are beginning the work of funding the ministry.
In this first phase, we are hoping to raise $10,000.00 which will be used to create the foundation and infrastructure needed to begin expanding the reach and ministry of ReFocus. These monies will go directly to creating the means by which to allow ReFocus to create more resources, materials, and trainings for churches as well as begin to put the pieces in place to add additional speakers, trainers, and ministers to our staff.
We have already raised $2,000 before we could send this letter to you!
There are two main ways to give:
Through our website: refocusministry.org (Click the Donate button). This will allow you to set up a one-time donation or a monthly gift.
Personal Check: ReFocus Ministry c/o Christina Embree, 3518 Ramsgate Ct. Lexington KY 40503Donate Online
Since we have not yet received our tax-exempt status, these initial gifts may not be tax deductible. We anticipate receiving our tax exemption by the end of this year and a receipt for your donation will be sent to you.
At ReFocus, we believe if we really want to see our church families grow and our younger generations stay faithful to Jesus, we are going to have to find ways to come together, in community, and be the church across generations.
Thank you! Thank you for your contribution to this work! We are excited to partner with you.
Sincerely,
The ReFocus Board of Directors

Christina Embree, Founder & President
Sarah Flannery, Board Chair
Matthew DePrez, Treasurer
Krista Dutt, Recorder
Brett Meyer, Development
---

Is Your Church READY to Gather Together?
Are you interested in moving your church from a traditional, age-segregated into a more family-focused, intergenerational focus, connecting the home and the church?
Refocus Ministry would be happy to begin a conversation with your team and church about the how your church can grow in serving the families of your church and community and connecting your faith community in relationship with each other.
Ongoing coaching through various means is also available as your church continues the transition including weekly emails, monthly on-line trainings, and continued conversations. In addition to one-on-one coaching calls and follow-up resources, the following large-group presentations can be made available to your team, pastoral staff, or congregation.
Options to choose from for these presentations include:
Presenting on a Sunday morning to your worship service(s)
A parent webinar on Everyday Discipleship and partnering with the church community
A presentation on Connecting Generations (importance, need, Biblical foundation) for your leadership team
A training on a specific area of ministry such as Family VBS, Partnering with Parents, Equipping Volunteers, Creating an Intergenerational Culture for your ministry or leadership team.
OTHER – We will work to create a presentation that best suits your community's needs
Use the contact form below to receive a customized quote for your congregations needs. We look forward to journeying with you to make Psalm 145, one generation to another, part of our church's DNA.

---
For more information about…
Check out to ReFocus Ministry or "like" our Facebook page. Join our conversation at theReFocus Family and Intergen Ministry group on Facebook.
About this Blog
Refocus Ministry was started by Christina Embree, wife to Pastor Luke, mom to three wonderful kids, and church planter at Plowshares BIC. She also serves as the Minister of Generational Discipleship with the Great Lakes Conference of the Brethren in Christ.
With years of experience in family ministry and children's ministry, she is passionate about seeing churches partnering with families to encourage faith formation at home and equipping parents to disciple their kids in the faith. She recently graduated with a Masters of Arts in Ministry focusing on Family, Youth and Children's Ministry at Wesley Seminary, she also blogs at www.refocusministry.org and is a contributing blogger at D6 Family, ChurchLeaders.com, and Seedbed.