What's up with "church"?
I'm asking that sincerely. I recently read a discussion online that asked the question, "Why do we have kid's church?" The answer, which I have paraphrased below, left me very uneasy. But it also made me ask a different question – Why do we have church? Like, not, what is the church or but more, what is the purpose in gathering together as a community on a regular basis?
The question of "Why do we have kid's church?" was answered in the discussion in this way (paraphrased in my words): The reason we have kid's church is so that kids can learn in a context that is age-appropriate, It's fine for kids to visit the larger church with adults perhaps once a month or during certain seasons but if they are going to learn, it needs to be in spaces curated for them. After all, this is why preschools and elementary schools exist and we don't send kids directly to college.
With all due respect, I have to say that I disagree with this general framework for answering this question. Actually I disagree with the basic assumptions and ideas that are often (not always) inherent in this approach.
If the purpose of church was simply to educate people on what it means to be a Christian and to understand biblical concepts, theology, and literature, then yes, this approach would be appropriate. But church isn't school. Not even Sunday School (which was actually school when it started but I digress).
Church isn't a place designed primarily to teach or to educate. While we do learn at church, learning isn't the purpose of the church. The church finds its identity, its DNA, in being the body of Jesus Christ. We gather in community not merely to learn but to serve, to worship, to experience the mystery that is the Trinity and the family that is the body of Christ.
We would never deny the youngest children in our families from participating in family traditions and activities because they didn't understand them; rather, we would come alongside them, teach them, invite them in, and wrap them in our stories, our experiences, and our love.
Visiting an "adult service" on 5th Sundays or in the summer does not invite a sense of community or of collective understanding of our mission as the whole body of Christ to serve, lead, and love together. It creates a tourist mentality where you are not really a part of what is happening but you are allowed access as an outsider looking in. It doesn't foster relationships, it doesn't bring about nurture, and it inhibits lifelong generational discipleship.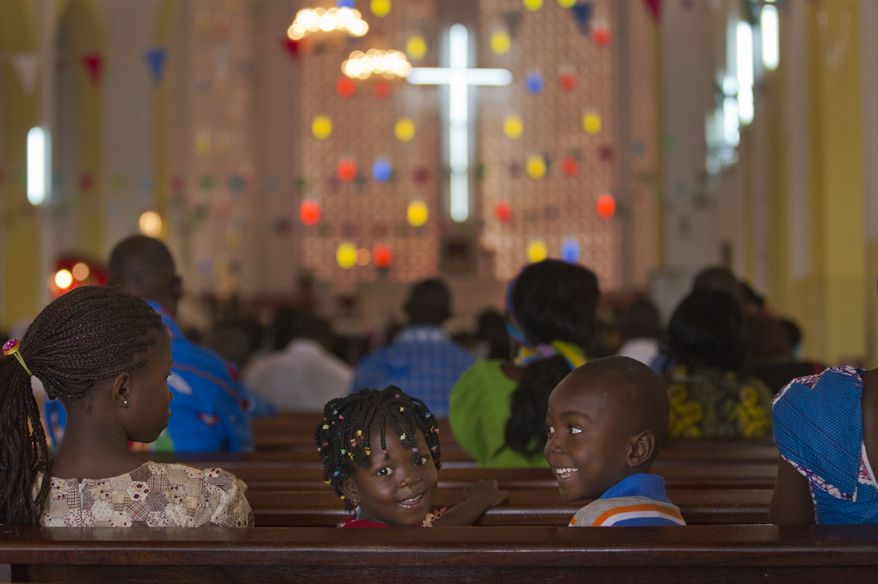 To be clear, I am not opposed age-sensitive spaces and contexts BUT if we limit church to these experiences or major on them as our primary means of gathering to the exclusion of or limitation to gathering across generations in common spaces, we are doing ourselves and our children a disservice. Cognitive development is so much more than the acquisition of knowledge; it is imitation, it is relationship, it is development of habits and patterns by being in proximity to that which we desire to grow.
Simply put, the answer to this question our framework has to be bigger than an either/or. It's even bigger than a both/and. The answer is to develop a culture that reflects that church is so much more than a place of learning. It's a place of being, a place of belonging, a place of worship and mystery, of serving and loving, a place of all ages and all developmental stages and abilities, that find commonality and grace together in being members of one body whose Head is Jesus.
It's not school. And it's not the home (family).
It's something entirely other – it's Jesus.
So if we are accustomed to being in a space that has primarily children in it (Kid's Church) or a space that has primarily adults in it (Big Church), we must ensure there is a space that has everyone welcomed in it so that we know more than just concepts – we know Jesus, as lived out in one another, big and small.
---

Is Your Church READY to Gather Together?
Are you interested in moving your church from a traditional, age-segregated into a more family-focused, intergenerational focus, connecting the home and the church?
Refocus Ministry would be happy to begin a conversation with your team and church about the how your church can grow in serving the families of your church and community and connecting your faith community in relationship with each other.
Ongoing coaching through various means is also available as your church continues the transition including weekly emails, monthly on-line trainings, and continued conversations. In addition to one-on-one coaching calls and follow-up resources, the following large-group presentations can be made available to your team, pastoral staff, or congregation.
Options to choose from for these presentations include:
Presenting on a Sunday morning to your worship service(s)
A parent webinar on Everyday Discipleship and partnering with the church community
A presentation on Connecting Generations (importance, need, Biblical foundation) for your leadership team
A training on a specific area of ministry such as Family VBS, Partnering with Parents, Equipping Volunteers, Creating an Intergenerational Culture for your ministry or leadership team.
OTHER – We will work to create a presentation that best suits your community's needs
Use the contact form below to receive a customized quote for your congregations needs. We look forward to journeying with you to make Psalm 145, one generation to another, part of our church's DNA.

---
For more information about…
Check out to ReFocus Ministry or "like" our Facebook page. Join our conversation at theReFocus Family and Intergen Ministry group on Facebook.
About this Blog
Refocus Ministry was started by Christina Embree, wife to Pastor Luke, mom to three wonderful kids, and church planter at Plowshares BIC. She also serves as the Minister of Generational Discipleship with the Great Lakes Conference of the Brethren in Christ.
With years of experience in family ministry and children's ministry, she is passionate about seeing churches partnering with families to encourage faith formation at home and equipping parents to disciple their kids in the faith. She recently graduated with a Masters of Arts in Ministry focusing on Family, Youth and Children's Ministry at Wesley Seminary, she also blogs at www.refocusministry.org and is a contributing blogger at D6 Family, ChurchLeaders.com, and Seedbed.