We saw snow on Sunday in Kentucky. Actual white flakes fell from the sky. Apparently the weather is not heeding by the "no Christmas until Thanksgiving" rule that I grew up with because the mere sight of snow sent my children, particularly my youngest, into a Christmas tizzy.
Okay, fine, I'll admit it. I too get a little bit of that excitement when I saw the snow falling. I love Christmas. But more precisely, I love Advent. I love the anticipation; the time leading up to our celebration of Christ's birth. Now, I realize that likely Jesus wasn't born on December 25 and that the background of the holiday was decidedly pagan and that the Wise Man have their own holiday (Epiphany) for a reason and … all those things.
But for us, Christmas IS actually the celebration of Christ's birth.
We anticipate that moment. We talk about why He came. We talk about the miracle of His birth. We talk about how heaven came to earth; how God became man and walked around us, fully God and fully man. How He chose to come as an infant, wrapped in frail flesh, carrying within Him the hope of the world.
I realize, of course, that not everyone who celebrates Christmas does so with this particular anticipation. In fact, many do not really await the chance to celebrate Christ's birthday but rather just anticipate the arrival of a jolly red-suited fellow with white whiskers and a sack full of presents. There are many traditions in our current celebration that have little to do with anticipating Christ's birth and much more to do with a modern celebration of a holiday.
But, let's look at that for just one moment. When Christ came into the world, He came with a purpose – redemption. Rather than discard the world, He redeemed it. And I happen to think we, as His followers, can do that same, if we so desire.
I think that's exactly what my friend Glenys Nellist had in mind when she wrote 'Twas the Evening of Christmas. I know a lot of people that like to read the poem 'Twas the Night Before Christmas on, well, the night before Christmas – Christmas Eve. The traditional poem is all about that latter anticipation – waiting for Santa Claus to arrive. It's pretty much impossible to grow up in modern Western civilization and not hear this poem at some point. It's as familiar as candy canes and caroling.
But it doesn't really capture what we wait for. It doesn't point us to our much-anticipated moment. It doesn't lead us to Jesus.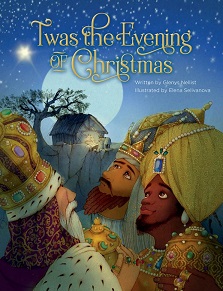 So Glenys redeemed it. 'Twas the Evening of Christmas has the same rhythm, the same cadence, the same comfortable traditional Christmas Eve feel but it leads us to a manger, to a moment, to what we celebrate at Christmas. My favorite line is when Jesus is born and and animals take notice that this is nor ordinary birth.
"Up jumped the cows, and the oxen and sheep. Up popped the pigeons, aroused from their sleep. They all came to gaze at the small baby boy, As his mama and papa hugged him with joy."
Our family loves the idea of redemption. The lights of Christmas remind us that the Light of the World has come. The evergreen tree reminds us that we've been given the gift of eternal life. The shadow of the needles on the ceiling remind of us the crown of thorns that Jesus would one day wear for us.
If reading the poem 'Twas the Night Before Christmas is a tradition in your home, why not use this simple story to redeem that moment too? It's a chance, a simple way, to remember what Christmas is all about for those of us who follow Jesus, the Messiah, our Savior.
(If you'd like to know more about the book and author click here and to read future reviews, go to http://momofwildthings.com/ . Interested in getting your own copy? Comment below or on Facebook by November 6 to be entered to win a free copy! Last year I got to share about her book Christmas Love Letters from God which makes for a great Advent Journey for young children; you can read that review here)
---
For more information about
Check out to ReFocus Ministry or "like" our Facebook page. Join our conversation at theReFocus Family and Intergen Ministry group on Facebook.
About this Blog
Refocus Ministry was started by Christina Embree, wife to Pastor Luke, mom to three wonderful kids, and church planter at Plowshares BIC. With years of experience in family ministry and children's ministry, she is passionate about seeing churches partnering with families to encourage faith formation at home and equipping parents to disciple their kids in the faith. She recently graduated with a Masters of Arts in Ministry focusing on Family, Youth and Children's Ministry at Wesley Seminary, she also blogs at www.refocusministry.org and is a contributing blogger at D6 Family and Seedbed