Let me let you in on a little secret.  Well, maybe it's not a secret. Maybe you already know. But here it is…
Some people don't like the idea of children being in worship on Sunday morning.
Others don't think it's a good idea for the youth group to be in Sunday school in the same class as older adults.
Still others question whether corporate worship is developmentally appropriate and some wonder if it's safe, considering the world we live in, for older people and younger people to interact in meaningful ways like mentoring relationships and close friendships.
Now, it's possible that you do not feel any of these ways… but I promise you, there are some in your congregation that do. And let's be honest. There are legitimate reasons for their concerns about safety and developmental appropriateness and there are years of experience and tradition and structures that bolster these opinions. And frankly, sometimes the protests arise from parents that are just tired and want a break and a place to receive instead of give.
I've written blogs about many these topics and concerns (just click on the links)…but that is not what this post is about. Because sometimes, instead of trying to turn a whole ship, it's wiser to just introduce some simple course corrections; ones that offer the goal of intergenerational connections without having to completely overhaul programming or interrupt the congregational flow. And sometimes, these course corrections can eventually lead to a culture that is more ready and able to begin turning the ship and embracing new (actually old) ways of worshiping and congregating together, across ages and generations.
Below are a few practices that could allow for your community to begin to connect children, youth, and the elderly (the groups that tend to be left out of communal gatherings) in meaningful ways. I've linked to resources as needed and would be happy to discuss any or all in deeper conversation if interested.
Pray For Me Campaign
The Pray For Me campaign connects young people with others in the congregation as prayer partners for an academic year. While there are programming resources available, the church I did this with simply prayed for each other. Each child who participated was giving 3 bookmarks with their picture and a little bit of information on it and they asked 3 adults of varying generations to pray for them for the school year. We had 40 students and 78 adults participate. Each week an email was sent out with Scripture to pray over your student for that week. That was it.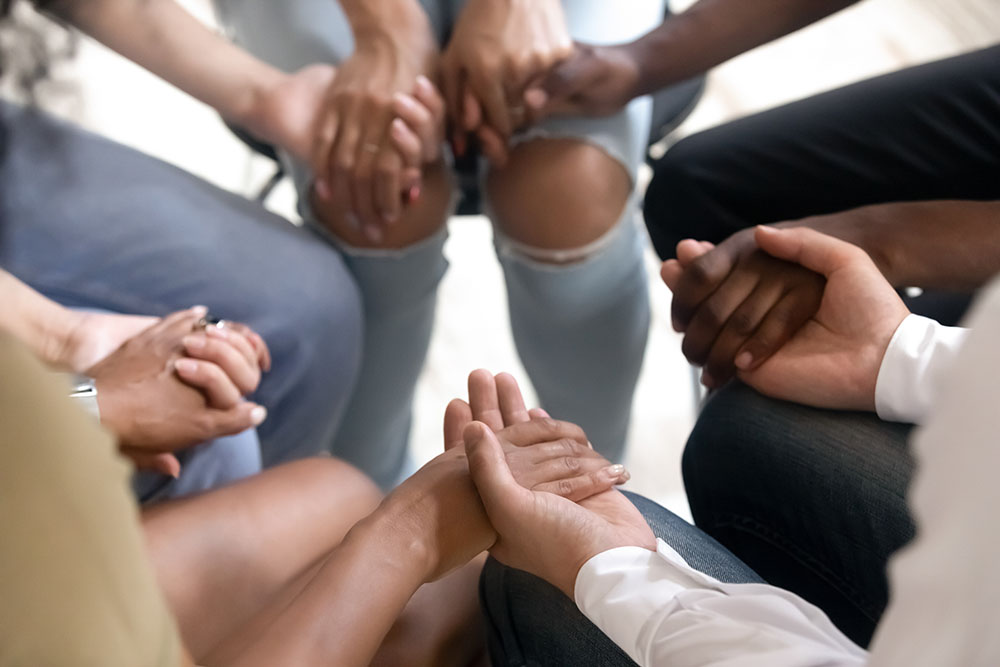 The Pray For Me book is fantastic if your church can afford to buy one for each participant; if not, buy a few copies for your team and each Sunday school and share as needed. Long story short – when people pray for each other, they begin to invest in one another. You can read more about my experience here.
Kids Worship Team
Often times in church, we define "worship team" as the group that gets up in front of church and leads singing. But worship is SO much more than that. Worship is showing reverence and adoration for God and we can do that in so many ways. Our Kid's Worship Team "led worship" through hospitality (holding doors and handing out bulletins), prayer (going up to the altar to pray when the pastor offered that during prayer time so no one would pray alone) and generosity (taking up the offering and praying over it).
Get creative; how can the kids and youth in your church "lead worship"? In our church now, our kids teach the adults the lesson they learned at the end of the service. It's incredible to watch how the adults connect to the kids lesson and how the kids get to share what they've learned. It takes 3 minutes but it's 3 minutes well spent for all.  What about you?
Redefine "Next Gen"
A couple of weekends ago, I had the chance to join the pastoral staff at my church (Plowshares Brethren in Christ) in sharing our 2020 Vision with the congregation. Currently, I am serving as the NextGen pastor, so when it was my turn to speak, I felt it would be good to define what exactly we meant by "NextGen."
I've found that for the most part, people tend to equate the term "NextGen" to youth ministry or children's ministry or family ministry. And while all of these things are a part of NextGen, for our church, the term is much broader. We take seriously the reality that disciplemaking means that as a community we are all participating in the passing on of our faith to upcoming generations. That means, when Plowshares NextGen holds an event, if the only people that come are the next generation, we are missing a key component of NextGen – namely, the current gens.
NextGen is not just about providing a ministry space to youth and children and their parents; rather it is about creating a discipleship culture where we learn together and from one another in a way that fans the flame of faith in all of us.
With that in mind, I invited the entire congregation to join us for our first NextGen event of the year: A rice and beans dinnerthat would focus on gratitude, simplicity and privilige and end with packing Blessings Bags for our participants to take with them.  These types of events give us a way to experience discipleship together which is important for all ages, not just the next generation.
Serve Together
Warning: I'm gonna get a little scientific on you but it's worth it so hold on. As human beings, we were created for social interaction. When we interact with other people, in positive ways, our brains release oxytocin. Oxytocin is a chemical that actually sometimes gets called the "cuddle chemical" because it helps us to trust and attach to others. When that happens, we are more likely to bond with the people we are interacting with and the part of our brain that forms memories is triggered and we hold on to that bond for years to come. (Source)
When people serve other people, a similar chemical reaction happens – humans "feel" good when they serve. So good in fact that people who serve live longer, healthier lives and experience reduced symptoms of depression and anxiety (Source).
Now, put to the two together in a church and you know what you end up with? Community. And with community we have a place for mentoring, discipleship and meaningful, lasting interactions with one another within the safety and security of communal gathering.  Those lasting bonds that are created will do more to draw hearts back to "church" than all the Sunday school crafts and silly youth group games in the whole world.
None of the things mentioned above require programming changes, curriculum overhauls or Sunday morning reorientation. They are simply course corrections. But all of them give the opportunity for the larger faith community to begin interacting with each other in ways that impact each other greatly. In other words, the ship could turn. The appetite may be whet for more because once we taste the rich gift that is true community across generations, our spirits will long for more…that's how we were created and that's how Jesus lived and loved.
Looking for more ideas? Check out the blog posts linked below.
---
For more information about
Check out to ReFocus Ministry or "like" our Facebook page. Join our conversation at theReFocus Family and Intergen Ministry group on Facebook.
About this Blog
Refocus Ministry was started by Christina Embree, wife to Pastor Luke, mom to three wonderful kids, and church planter at Plowshares BIC. With years of experience in family ministry and children's ministry, she is passionate about seeing churches partnering with families to encourage faith formation at home and equipping parents to disciple their kids in the faith. She holds Masters of Arts in Ministry focusing on Family, Youth and Children's Ministry from Wesley Seminary and is currently completing a Doctorate in Ministry in Spiritual Formation from the same. Christina blogs at www.refocusministry.org and is a contributing blogger at D6 Family, ChurchLeaders.com, and Seedbed