The latest social media craze among a very small group of people, namely evangelical Christians and ministers, is to post AI pictures of Jesus, biblical stories, and church people on the internet. If you haven't seen Jesus flipping over tables in the temple, you are truly missing out, but if you are an evangelical Christian on social media, you've probably seen it half dozen times.
There's an even smaller group of children's and family ministers sharing another AI generated illustration of young children serving in various roles in a modern-day evangelical church. In these pictures, we see toddlers holding guitars, singing into mics, running a sound board, hanging stage lights, and holding a camera to take pictures of other toddlers singing and lifting their hands to add to the church website. The caption reads, "How every church should view kids in church."
However good the intention might be, my instant visceral reaction to seeing this post was, "Immediately no, just…no."
"Why, Christina? I thought you encouraged churches to create spaces for children to actively participate in the life and ministry of the church?"
Here are a few of the reasons I do not like these images or think that it is how the church should view its children:
Matthew 18:1-5 – At that time the disciples came to Jesus and asked, "Who is the greatest in the kingdom of heaven?" He called a little child and had him stand among them. And he said: "I tell you the truth, unless you change and become like little children, you will never enter the kingdom of heaven. Therefore, whoever humbles himself like this child is the greatest in the kingdom of heaven. And whoever welcomes a little child like this in my name welcomes me."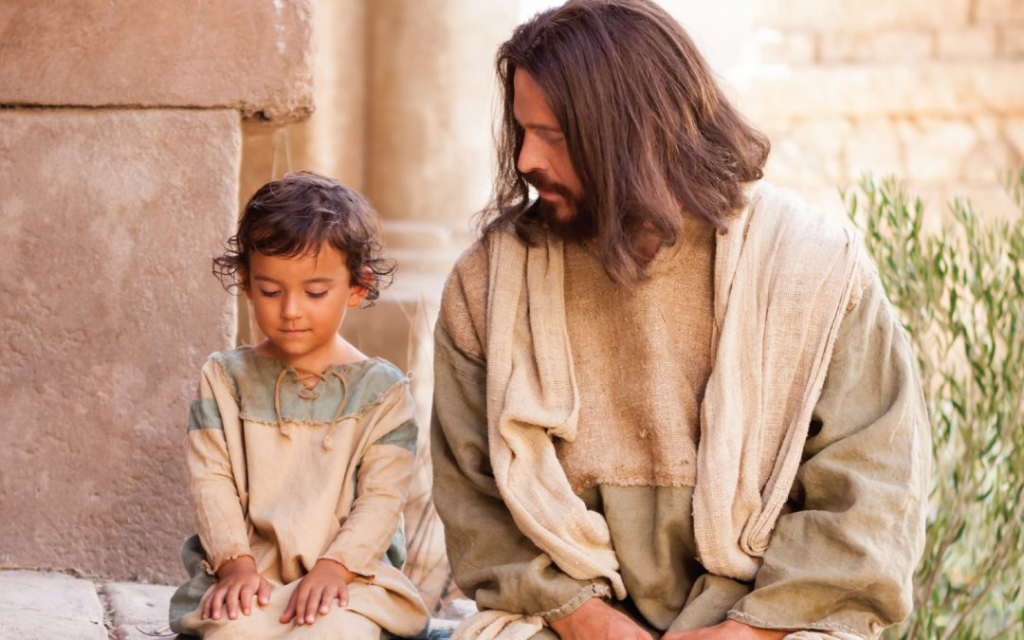 Jesus is very clear about who we should welcome in his name and by doing so, welcome him – a little child. We are not to welcome miniature adults who look like us, act like us, and behave like us. The whole point of welcoming a child is so that we become like children, not the other way around. Children have a unique voice and experience in the kingdom of God that we need! They are a treasure in and of themselves. To reduce them to role to what they might one day be in an adult setting and to view them in that way is to miss the incredible gift that they offer us as they are right now.
We need to see children as… children! And we need to learn from them how we must change and be like them, to humble ourselves to become the student rather than just the teacher. We don't do this by making them look like us. We do this by letting them be exactly who they are – little children.
Matthew 28:16-20 – Then the eleven disciples went to Galilee, to the mountain where Jesus had told them to go. When they saw him, they worshiped him; but some doubted. Then Jesus came to them and said, "All authority in heaven and on earth has been given to me. Therefore go and make disciples of all nations, baptizing them in the name of the Father and of the Son and of the Holy Spirit, and teaching them to obey everything I have commanded you. And surely I am with you always, to the very end of the age."
Our call as believers is to make disciples of Jesus. That is our mission, our mandate, and our ministry. We are not called to make the next generation of sound techs and worship team members. While these may be ways that some live out their calling as they follow Jesus, this is not our goal or how we should envision our children in the future. They are not called to perpetuate our "way" of doing church.
We should help our children fall in love with Jesus and our vision of what their future holds should primarily consist of one thing – them following Christ wherever he leads. God can certainly use mentoring relationships in these areas to help them follow Jesus but imagining children in these roles first keeps us from imparting the preeminent goal – to introduce them to God and let Him be their Lord, not us.
Matthew 19:13-15 – Then the people brought their little children to Jesus so he could put his hands on them and pray for them. His followers told them to stop, but Jesus said, "Let the little children come to me. Don't stop them, because the kingdom of heaven belongs to people who are like these children."
The disciples didn't want the children as the children were. They tried to stop them. In Mark's account (10:13-15), Jesus becomes angry at the disciples for keeping the children from Him. He tells them, "Don't stop the children from coming to me! The kingdom of God is theirs!" In the AI images, the children are not being given the kingdom of God. They are being given roles within a specific church culture to fulfill in order to perpetuate that particular style of church in the future. It's not a vision of God's kingdom of but man's kingdom. By casting this vision of how we should see children in church, we are in fact hindering them from receiving the kingdom of God. Read again what Christ's reaction is to us when we do this.
Some may say I am reading too much into these images and the responses. I don't think I am. Those images have received hundreds and perhaps even thousands of "likes" at this point with many saying things like, "Yes! Absolutely! The children are the church of the future!" and the like. There is a fundamental misunderstanding of who children in the church are now and what our role as adults are in regard to our interactions with them. Children are not just miniature adults that need to be brought up so they can be used.
We do not have a utilitarian call to raise the next generation of church-goers. We have a missional call to make disciples. We have a specific call to welcome children as children. We have a command from Jesus to learn from children and let them instruct us on how to receive the kingdom of God with humility.
If anything, I think I have understated how damaging these images and the culture that it represents is for the church. I wish my passion and conviction could be better portrayed through words on a screen. My hope is at the very least this sparks within you a desire to reconsider what you imagine for the future of the kids of your church. May the image that pops up in your mind is one of children who follow Jesus as they grow, as lifelong disciples of a Christ who welcomes them just as they are.
---
Family Faith Formation: Fill Your Toolbox
The heart of Family Faith Formation is families spending time together around the Word of God within the context of the larger faith community.

Many parents express frustration about the lack of support and equipping they experience when it comes to leading their kids spiritually at home. Churches often encourage parents that they are the ones who are called by God to disciple their kids but frequently don't provide the training, experience and resources needed for them to feel adequately prepared for that work.
Our Fill Your Toolbox curriculum gives parents what they need and churches what they desire. Each block contains five lessons focused on introducing, learning, and practicing specific discipleship strategies.
Connect Generations Coaching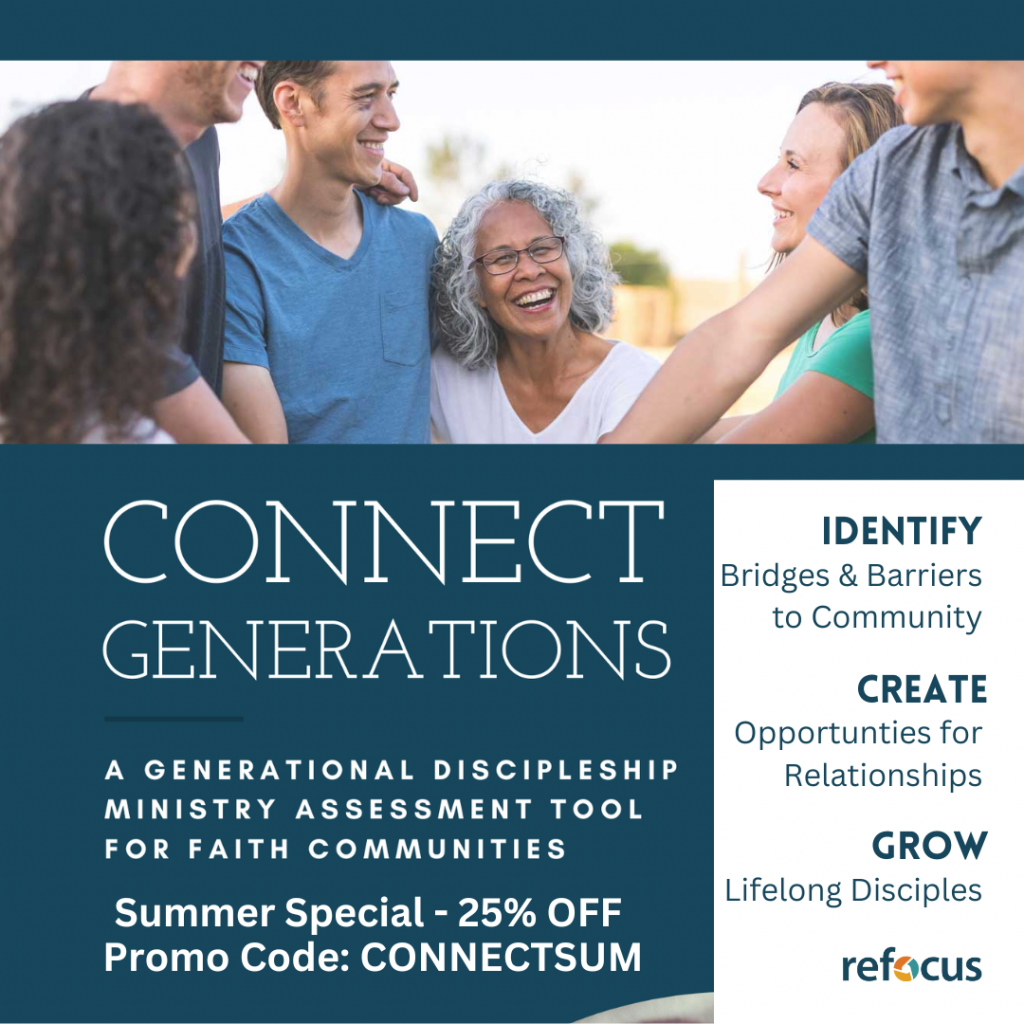 A One-Time 60-Minute Intensive Coaching Experience that will transform your ministry.
Connect Generations Coaching is an intensive coaching experience that uses a research-based ministry assessment tool designed for churches to complete in less than a week. This unique coaching experience offers specific insight into the barriers and bridges to connect generations and bring your community together.
"This experience allowed me to review how the church needs to break down the barriers and all multi-generational relationship to happen. We did ourselves a disservice by dividing out the generations. We missed opportunities to naturally develop relationships that lead to discipleship and mentorship" – Pastor in Texas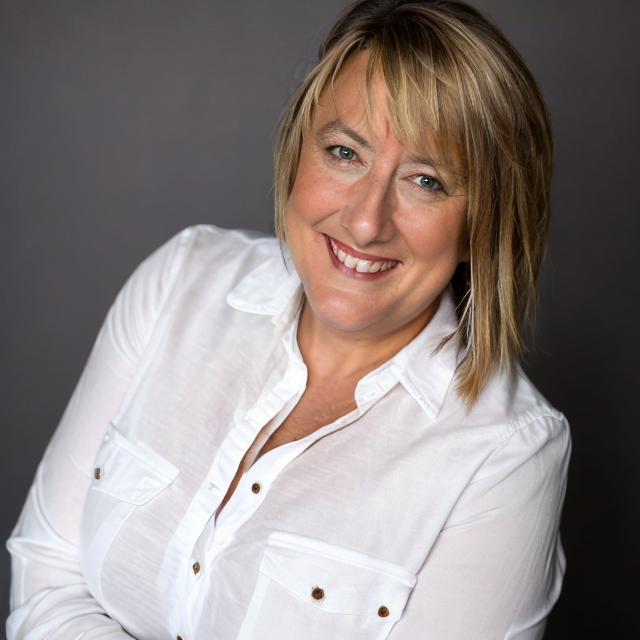 Christina Embree is the founder and director of ReFocus Ministry. She holds a masters in ministry focused on Children, Youth, and Family Ministry and a doctorate in spiritual formation with a focus on age segregation and intergenerational ministry. In addition to coaching churches of multiple denominations and traditions all around the globe, Christina serves as the Minister of Generational Discipleship for the Great Lakes Conference of the Brethren in Christ and as a pastor at Plowshares Brethren in Christ in Lexington, Kentucky. She is widely recognized as a speaker and author in the areas of generational discipleship, intergenerational ministry, and family ministry. As the mother of three children, she is familiar with the challenges of faith at home and pastoral ministry. She along with her husband Luke share a love for the church, their community, and the global work of peace and restoration through Jesus.