Charlie Brown: Isn't there anyone who knows what Christmas is all about?

Linus Van Pelt: Sure, Charlie Brown, I can tell you what Christmas is all about. Lights, please.

"And there were in the same country shepherds abiding in the field, keeping watch over their flock by night. And lo, the angel of the Lord came upon them, and the glory of the Lord shone round about them: and they were sore afraid. And the angel said unto them, 'Fear not: "for behold, I bring unto you good tidings of great joy, which shall be to all people. For unto you is born this day in the City of David a Savior, which is Christ the Lord. And this shall be a sign unto you; Ye shall find the babe wrapped in swaddling clothes, lying in a manger.' And suddenly there was with the angel a multitude of the heavenly host, praising God, and saying, 'Glory to God in the highest, and on earth peace, good will toward men.'"

That's what Christmas is all about, Charlie Brown."
This scene is probably the most well-known in the classic Peanuts story, "A Charlie Brown Christmas."  It airs every year on ABC as part of their Christmas programming and is something that most of us grew up watching and make our kids watch annually. And at one time, most of the country would have agreed with Linus regarding what Christmas is all about…but times have changed.
A recent poll by Pew Research found…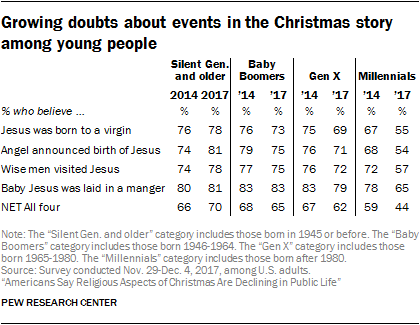 "Today, 66% say they believe Jesus was born to a virgin, down from 73% in 2014. Likewise, 68% of U.S. adults now say they believe that the wise men were guided by a star and brought gifts for baby Jesus, down from 75%.
And there are similar declines in the shares of Americans who believe that Jesus' birth was heralded by an angel of the Lord and that Jesus was laid in a manger as an infant.  Overall, 57% of Americans now believe in all four of these elements of the Christmas story, down from 65% in 2014" (Source).
Why is that?
Well, a big reason for the decline in these numbers is the increase in others, especially the rise of the religious "Nones" who consider themselves unaffiliated with any religion. The majority of those who would categorize themselves this way are in the younger generations, specifically Millennials.  In addition to leaving organized religion and subsequently churches, many are also leaving behind the beliefs of the faith they grew up with and that includes the Christmas story.
So very much has been written about Millennials and, while I too have my thoughts, this post really isn't about this; rather, I am hoping that this encourages us to really consider the generation we are currently raising in the light of this information.
What if we were to ask ourselves some questions, like…
Are we presenting the story of Christmas as a fairy tale or a significant part of church history?
Our kids hear fairy tales all the time and in fairy tales (or superhero stories or fantasy stories) magical and impossible things happen; things like a virgin giving birth to a baby and angels appearing in the sky.
How we tell the story matters. If we want our kids to understand that these events have been passed down from people who lived through them and experienced them, from one generation of Christians to another, for over 2,000 years, we have to tell the story that way. We have to tell them that no one made this story up or dreamed it in a dream. Actual people lived the events, told other people about it, who recorded their stories and then shared those stories with us.  And that is way, way different than a fairy tale and makes our God way, way bigger than a story.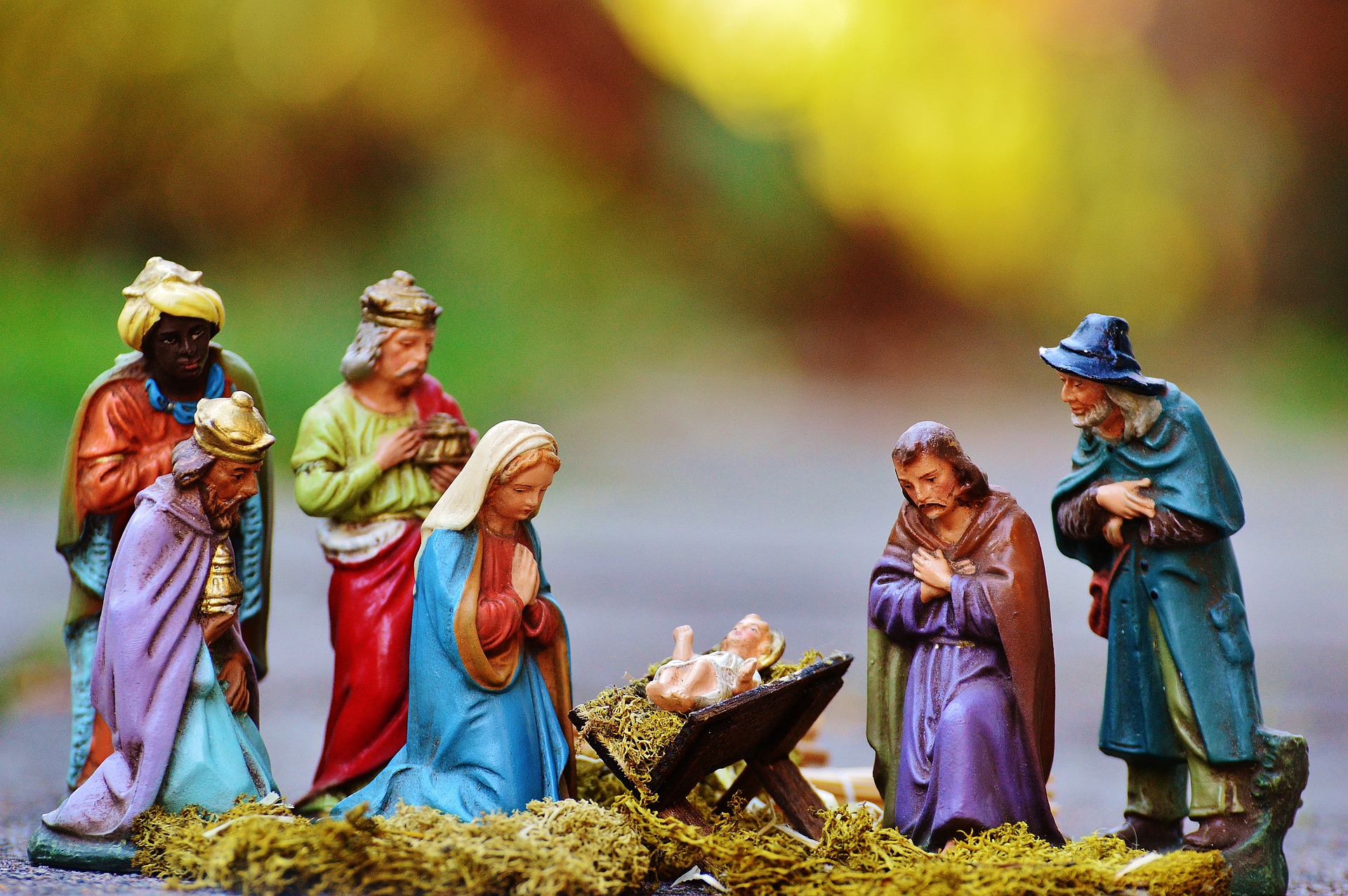 An example of this is how we present the story as though it actually happened on December 25 in the snow with a glowing Christmas tree in the background of the cozy stable and wise men by Mary's side. Okay, this is a bit of an exaggeration of course, but you get the idea.
God's story of coming to earth as a poor baby to an unwed mother in a place where animals were kept and first visited by the outcasts of society is grand enough; let's tell them what Mary told John and John recorded for us and what the disciples told Luke and he wrote it down for Theophilus and for all of us. Let's give them the truth because the truth is incredibly beautiful, raw and real. 
Are we entering into the journey of Advent or just joining the celebration of Christmas? 
The older I've gotten, the more important I realize Advent is. Advent is the period of time leading up to Christmas and throughout church history, it's been the time of waiting and anticipating that made Christmas Day so amazing. It's a time of hearing the story, not once or twice, but over a period of days and weeks and contemplating it together as we wait for the culmination, the birth of Christ, on Christmas Day.
Advent slows us down and lets us truly consider the incredible events of that time, all wrapped up in the themes of Hope, Peace, Joy, and Love. This is a powerful opportunity for children to embrace and understand how the birth of Jesus fit into a larger story of who we are and who God is; a story that they get to be a part of as members of God's family.
Are we keeping Christ as our focus or is He the afterthought? 
Yes, Church family, I'm looking at you. Because this is the crazy, busiest time of the year for church people, especially ministers. Not only are there all the things that happen outside of church, but all the things that happen inside too – cantatas and concerts, breakfasts and banquets, programs and performances, evening services and midnight services, and everything else that comes with all of those things.
And while they all may be "about" Jesus, those things are not Jesus.  And  while they all may feel important, we do need to be careful that these things enhance the story of Christ and don't clutter the season with even more distraction.  Kids see and remember; let's be sure that what they remember is Jesus.
There's a great video about the church calendar that explains how the church has celebrated the life of Christ throughout history. In it, the narrator says, ""Ordinary season has passed; it's time to inhabit His Story."
That is the beauty of Advent and Christmas. It is our chance, as the church of God, to enter into the story of Jesus' life and to celebrate once again the Greatest Gift, the Word who became flesh and took up residence among us.
Advent leads to Christmas, Christmas to Epiphany (God's revelation to all mankind, symbolized by the Wise Men), Epiphany to Lent (a time of testing and trial, reminding us we have a Savior who knows what it is to be human), Lent to Easter, Easter to Ascension, and finally Ascension to Pentecost where God once again comes to earth in the form of the Holy Spirit and takes up residence in mankind.
This is the story of God and the story of us.
And this is the story we need to share with our children, over and over, not as a dream of what could be but a beautiful picture of the reality of God's presence and Love in our lives.
So, my friends, ""Ordinary season has passed; it's time to inhabit His Story". Blessed Advent and soon, Merry Christmas!
---
For more information about
Check out to ReFocus Ministry or "like" our Facebook page. Join our conversation at the ReFocus Family and Intergen Ministry group on Facebook. 
About the author
Refocus Ministry was started by Christina Embree, wife to Pastor Luke, mom to three wonderful kids, and church planter at Plowshares BIC. With years of experience in family ministry and children's ministry, she is passionate about seeing churches partnering with families to encourage faith formation at home and equipping parents to disciple their kids in the faith. She recently graduated with a Masters of Arts in Ministry focusing on Family, Youth and Children's Ministry at Wesley Seminary, she also blogs at www.refocusministry.org and is a contributing blogger at D6 Family and  ChurchLeaders.com