Last night, I glanced out the window and saw the tell-tale pink glow of the promise of an amazing sunset. I absolutely LOVE the sky and love all the things that happen there from storm clouds swirling to sunsets waning. In fact, one of my neighbors stopped me once to say, "I love how you are always looking up!" And I do. I love the sky.
So, in true form, I bounded from the couch and ran out the door, camera (okay, fine, phone) in hand. The sky was an orange-pink color as the setting sun bounced off the low-hanging clouds. As the sun went lower, the clouds changed from light orange to bright orange to dark pink. The whole sky rippled with the colors of sunset, changing the whole atmosphere into a magical pink paradise.
And then, it was over. The clouds returned to their gray color. The sun sunk below the horizon. The dim light of twilight took over. The awe-inspiring show of beauty and light was over just minutes before it started, captured only in a few photos and the swelling of my joy-filled heart.
Go ahead and grab your phone. Take a few minutes and glance through the moments you've captured there.
A birthday party?  A visit with a friend? A few silly selfies with your kids?  That time when you snuck in and got a picture of your little one sleeping?  A couple of cameos just for fun?
My guess is these were fleeting moments too.
Times where you grabbed the phone to capture a full heart in a still picture.
The thing about Time is that it doesn't stop moving forward. As one kidmin conference noted a couple of years ago "It's just a phase…so don't miss it."
That sunset I saw will never happen again. I could have glanced outside and said, "Oh look, a sunset" and moved on. I could have taken a picture and posted it on Instagram to prove I was there. Or, I could have done what I did – reveled in the moment. Fleeting though it was, it filled my soul.
Our moments with our children are likewise fleeting. Even those pictures on our phones can be deceiving, because being present and being there are two different things. I think the missionary Jim Elliot put it best when he said, "Wherever you are, be all there."
Discipleship happens in the moments, not the photographs.
It happens in the stolen minutes before bed, the shared meal around the table, the movie night in the living room, the car ride to practice, the quick hug before the school day begins.
It happens when we invite Christ into these precious times. These passing moments can be soul-filling if we let them be, not just for us, but for our kids. The opportunity to be "all there" presents itself all the time, the soft glow of family calling us back to each other, for moments that can bring us awe.
When I look at this picture of sunset, I don't just see a beautiful sky or a gorgeous sunset. I feel the moment in my heart. I feel the awe. And that's because I was truly there.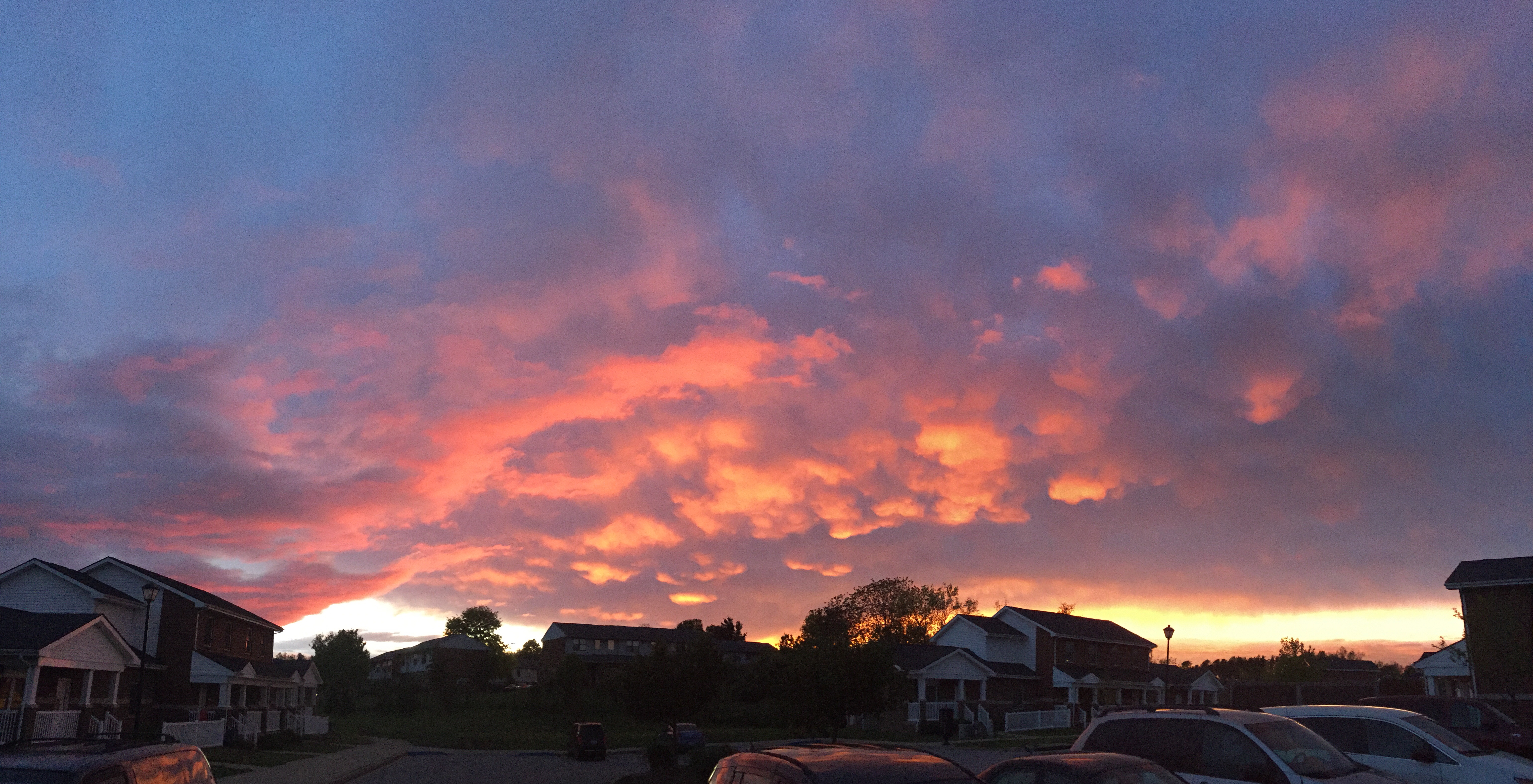 What do we feel as we scroll through those pics on our phone?  Why not grab your child and go through it with them?  Feel the awe of the moments together. And make that determination to be "all there" no matter how fleeting the time may be
---
For more information about
Check out to ReFocus Ministry or "like" our Facebook page. Join our conversation at theReFocus Family and Intergen Ministry group on Facebook.
About this Blog
Refocus Ministry was started by Christina Embree, wife to Pastor Luke, mom to three wonderful kids, and family minister at Nicholasville UMC. She is passionate about seeing churches partnering with families to encourage faith formation at home and equipping parents to disciple their kids in the faith. She recently graduated with a Masters of Arts in Ministry focusing on Family, Youth and Children's Ministry at Wesley Seminary, she also blogs at www.refocusministry.org and is a contributing blogger at D6 Family and  Seedbed