"What are we going to do?"
These words accompanied by the look in his eyes, the sound of desperation in his voice, the weariness and the sadness etched into his face, tugged at my heart.
Oh, how I wished for easy answers, the one tip or trick that would be guaranteed to work, the silver bullet that would solve his problems and give him hope for a better future. But those don't exist. They simply don't. And if I was going to help answer that question in a way that might possibly bring any resolution or consolation, it wasn't going to be with empty promises or false hopes.
It was going to be with the truth.
"Here's what we are going to do. First, we are going to pray. We're going to slow down enough to listen to what God is speaking to us and for us in this particular situation. Then, we are going to observe and look for the places God is already moving. And then, we are going to identify the barriers and bridges in place that can impede the work or establish the work. And then, we are going to work; we are going to join God in his mission of the reconciliation of all things and we are going to entrust the ones we love to His care. And we're going to do it together."
While this is not word-for-word a conversation I recently had with a tired fellow minister, it is a fair synopsis of our interaction.
And I just bet, if you are reading this particular blog post, you can likely relate.
You are probably a minister of some kind, whether in children, youth, or family ministry or a pastor, maybe a parent or grandparent. In any case, it is likely that you have a deep desire to impact the next generation for Jesus.
You can probably relate to feelings of inadequacy and exhaustion and wondering what in the world can you do in light of the current social and cultural influences on the young people that you love so very much.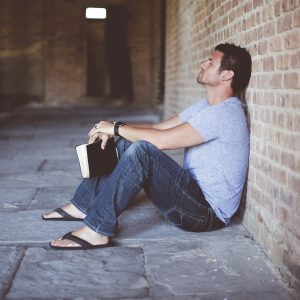 You likely have watched ones that you love reject their faith for one reason or another or journeyed with others through their own rejection because they choose to hold on to their faith.
You may have even uttered the words, "What are we going to do?"
You're in good company. The gospels recall a specific instance where the disciples basically asked that same question.
They were in a boat, out at sea, when a storm came up and raged around them. They pretty much thought they were going to die. And where was Jesus you might ask? Oh, he was asleep, in the back of the boat, perfectly resting and fully at ease. While the disciples were desperately crying out, "What are we going to do? We're going to die!" Jesus was completely calm and at peace.

When He did finally hear their calls of distress, two things happened. First, he simply asked them, "Where is your faith?" and second, he calmed the storm. Here's what didn't happen. He didn't freak out. He didn't act unaware. He didn't become alarmed or agitated. Ever wonder why? I really think it's because He knew the bigger plan, the one that said they needed to get to the other side of the sea because there was work to be done there. So, He knew they would get there and he wasn't afraid. He rested in the fact that the future was secure.

Luke 8:22–25; Matthew 8:23–27; Mark 4:36–41
So, what ARE we going to do?
First, we're going to pray. It can even be a freak-out prayer like the disciples. We may need to acknowledge we're a little low in the faith department.
And then, we are going to listen to God's reminder that He is about a work in this world, the reconciliation of all things. All things. Not some things. Not most things. All things. And we are going to rest in that promise because that includes those young people we love so dearly and care so much about.
And then, we will seek to find our place in that beautiful mission.
We will work to identify the barriers in our congregations and communities that keep generational discipleship and faith formation from happening in our churches and homes.

We will fortify or build the bridges necessary to allow one generation to declare the works of the Lord to another, to create meaningful relationships that lead to lifelong disciples, mentors, and friends.

We will fulfill our call to be the body of Christ to one another and to our neighbors and, if you will allow me to join you, we will do it together.
Over the next month, ReFocus Minstry is putting in place some new opportunities for your church to begin to answer the question "What are we going to do?"
Our Connecting Generations Ministry Assessment will allow you identify the barriers and bridges in your church and home.
Our ReFocus cohorts will provide a space for like-minded ministers and parents to gather and learn and lean in together to the work of generational discipleship.
Our coaching experiences and webinars/seminars will equip your whole community for this work as together we determine exactly what it is we are going to do as we join God as ministers of reconciliation.
There are no easy answers, no silver bullets, no perfect solutions. But there is a God who lives, who loves, and who leads us and He offers us the perfect peace of knowing, His work will be done, on earth as it is in heaven.
---
A Note from the Author
Hello! If you are new to this blog, I am happy to meet you. My name is Christina Embree, director of ReFocus Ministry and advocate for connecting generations at church and at home. If you are not new, you know that I have taken some time off over the last few months as I have finished up the research for my doctoral project and putting together a case study focusing on age segregation in the church.
My research both before and during my doctoral work has convinced me of the need for intergenerational relationships that lead to faith formation and lifelong disciples is absolutely necessary. Over the next month, ReFocus will transforming from a blog to a full-service website, loaded with resources and opportunities for churches to connect generations in meaningful, life-giving ways. Don't worry; there will still be blog content, but we are excited to be able to offer new opportunities for growth including the Connect Generations Ministry Assessment for use in your own church or home.
I am passionate about coming alongside fellow ministers and parents in this work of generational discipleship and would love to get to know you better. If you are not already a part of our ReFocus community online, I invite you to join our Facebook group ReFocus Family and Intergen and sign up below to be part of our email list which will include a special offer for pre-orders of the Connect Generations Ministry Assessment.