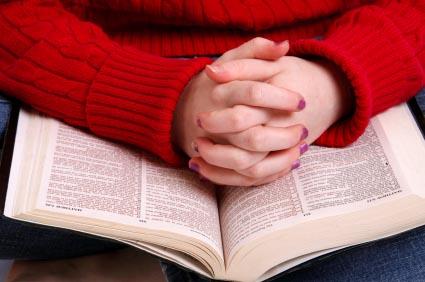 If I ask a group of kids to tell me "What is prayer?" inevitably I will get the answer "Talking to God." And while this is true and often an easy way to explain prayer to kids, prayer is much, much more than that.
As you refocus toward discipleship at home, it is important to give parents/caregivers the tools to incorporate the key elements of the faith in their home.
Here are 4 simple ways to pray that families can explore prayer together at home.
Praying Scripture – A lot of times, people don't know "what" to pray especially kids. As an exercise, gather your family around and open the Bible to the book of Philippians. Then, have each member try to find TWO verses they can pray for someone else in the family. For your younger kiddos, check out this coloring sheet with verses and let them pick two to color. For older elementary kids, here is a sheet of verses they can print out and use to help with their prayers.
Praying Blessing – The Bible is full of blessings where someone is asking for God's favor to be on someone else. For fun family activity, do a google search for "Blessings in Scripture" and pick out one for each family member. Write them each down on posterboard (let the youngest kiddos color it to make it beautiful) and commit to praying for each other that way for one week. After a week, sit down and share how it made you feel to hear a blessing prayed over you each day.
Praying Remembrance – Paul tells us to "remember his chains" as we pray and to pray for our brothers and sisters in prison around the world as though we were with them. Go to Operation World's website and there you will find a list of all the countries in the world and how to pray for them. Find one country per family member where Christians are being persecuted for their faith and commit to praying for those countries as a family. A hands-on activity for this would be to create a paper chain with the names of your countries on it and hang it where you can see and remember throughout the day.
Praying Power – "The prayers of a righteous man are powerful and effective." Jesus tells us that with the faith of a mustard seed, we can move mountains and the greatest evidence of God's power is a heart transformed. Read the story of Elijah praying for rain found in I Kings 18 and what James shares about it in James 5. Consider together some people who need God's "rain" in their life and as a family, pray for God's power to be manifest through transformation.
Praying is much more than talking to God. It's faith exercised. It's hearts listening. It's praise and worship. It's communion with one another and with the Father, Son, and Holy Spirit. These four simple ways to pray together not only let you expose your kids to a bigger picture of prayer but also to grow together as a family.
---
For more ideas on Practical Discipleship in the Home or Transitioning to a Family-Focused Ministry, check out ReFocus Ministry or "like" us on Facebook for even more faith formation resources.