When the "stay-at-home, school-cancelled" executive orders began to spread across the United States, a lot of social media posts began circulating that parents of school-aged children would now all be homeschoolers. Since I am friends with a number of people who homeschool, I immediately began to hear from them that this thing that most people were now doing (Zoom class, online work, turning work into a teacher in a different location, navigating new technology, etc.) was most definitely NOT homeschooling.
It didn't take long for new social media posts to begin circulating that said, "You are not homeschooling; you are schooling at home in crisis." Within a few weeks, distinction having been made, people began to accept that the experience of homeschooling and the experience they were currently facing were not one and the same.
Enter "Church Re-Opening."
In many states, churches are beginning to re-open their doors, albeit with a number of cautions and restrictions. One major thread that appears similar across the board is that children's ministries are delaying their opening even longer which means children will be joining their parents in corporate worship (or "big church", a name that is a personal pet peeve of mine but generally understood in church circles).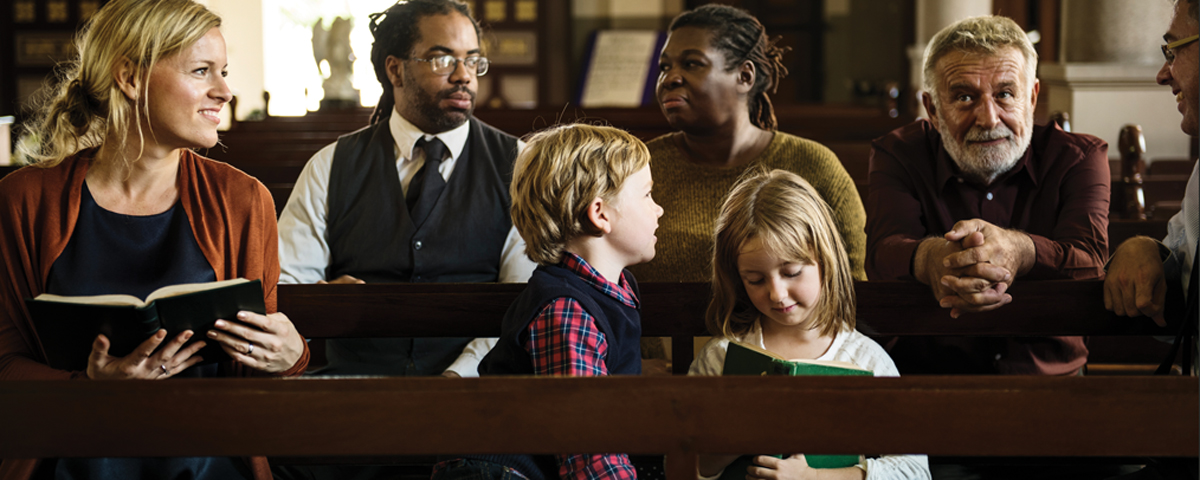 I've seen multiple helpful posts regarding how to help children to engage in the worship service or, at the very least, keep them engaged so that others can worship. Ideas, very many of them similar to ones I've shared here for years, are floating about and people are trying, some for the very first time.
This has the potential to be an incredible boon for connecting generations and creating space for corporate worship across America.
My concern however is that it will have exactly the opposite affect.
You see, first and foremost, intergenerational ministry is not about putting people of multiple generations in a communal space where worship, prayer, and/or teaching takes place. That might be what happens BUT that is not the heart of intergenerational ministry.
True intergenerational ministry is a culture which strives to create environments that foster generational mentorship, intergenerational relationships, and multi-generational experiences that focus on welcome, belonging, and discipleship.
It's not about putting people in the same space and making sure that everyone can somehow make it through an hour together and hopefully not distract one another too much. That's online schooling in a crisis. It's a current reality that we have not chosen but that has been thrust upon us and we are dong our very best to work with.
Intergenerational ministry is something that needs time and cultivation. In churches that are strongly separated along generational lines, the introduction of intergenerational worship, study, and prayer is something that should be entered into circumspectly with care given to community needs and corporate identity. Like homeschooling households, there is no cookie-cutter method for intergenerational ministry. Each faith community has particular needs and considerations that must be addressed as intergenerational culture is lived into.
The danger that exists with creating a few busy bags, printing out sermon sheets, making coloring pages available, and the like, isn't that those things are inherently unhelpful (I actually recommend them in certain contexts); it's that those things do not an intergenerational worship service make.
My encouragement to those of you dipping your toes in the waters of corporate worship for perhaps the first time is to take the next few Sundays in stride.
You might find that your faith community is ready to begin exploring ways to connect the generations in corporate worship, learning, and serving settings. GREAT! I would be happy to point you in the direct of some fantastic resources.
You might find that your faith community is not ready to engage in fully-integrated worship and learning settings for all ages. That's fine too. Forcing a square peg in a round hole doesn't work. But, changing the shape or the culture can work and given time and community buy-in, you might find ways to begin to overlap generations and find space to allow generational discipleship and intergenerational relationships to flourish. I'd be happy to walk alongside of you as you begin to explore ways to make that happen. (A great place to start is here)
Regardless, the major takeaway of this post is simply this: What will be happening in most churches over the next several weeks, while inclusive of all generations, will not likely be true intergenerational worship or ministry. Accept it as it is – a way to worship during a state of global crisis – and know that God's grace is sufficient and His presence is promised wherever we gather in His Name.
---
For more information about
Check out to ReFocus Ministry or "like" our Facebook page. Join our conversation at theReFocus Family and Intergen Ministry group on Facebook.
About this Blog
Refocus Ministry was started by Christina Embree, wife to Pastor Luke, mom to three wonderful kids, and church planter at Plowshares BIC. She also serves as the Minister of Generational Discipleship with the Great Lakes Conference of the Brethren in Christ. With years of experience in family ministry and children's ministry, she is passionate about seeing churches partnering with families to encourage faith formation at home and equipping parents to disciple their kids in the faith. She recently graduated with a Masters of Arts in Ministry focusing on Family, Youth and Children's Ministry at Wesley Seminary, she also blogs at www.refocusministry.org and is a contributing blogger at D6 Family, ChurchLeaders.com, and Seedbed
*The advertisements at the bottom of this page are chosen by WordPress, not by ReFocus Ministry, and do not necessarily reflect the opinions and values of the author.