It's the most repeated comment I hear from church leaders when we meet to talk about intergenerational ministry and generational discipleship.
"I'm alone in this. No one else really seems to get it. Everyone just wants to keep things the same. I feel like I'm in uncharted waters all by myself."
This sense of being alone can feel overwhelming and debilitating. I know, because I've been there and I've felt exactly that. Even for someone who is fully convinced that it is in the best interest of their church, their youth, their families, and their community to begin to build relationships across generations and create space for times of worship, learning, and living together, the prospect of having to rebuild culture from the ground up can be intimidating.
So, what if we didn't have to do it alone? What if we could join together with a group of like-minded ministers from around the globe that were journeying together from the beginning to create an intergenerational community of faith in their own churches and cities? What could it look like if everyone was on the same page, moving together, supporting one another, praying for each other, and cheering each other on?
I think it could look amazing. In fact, I think it could be exactly what is needed for so many of us who feel alone.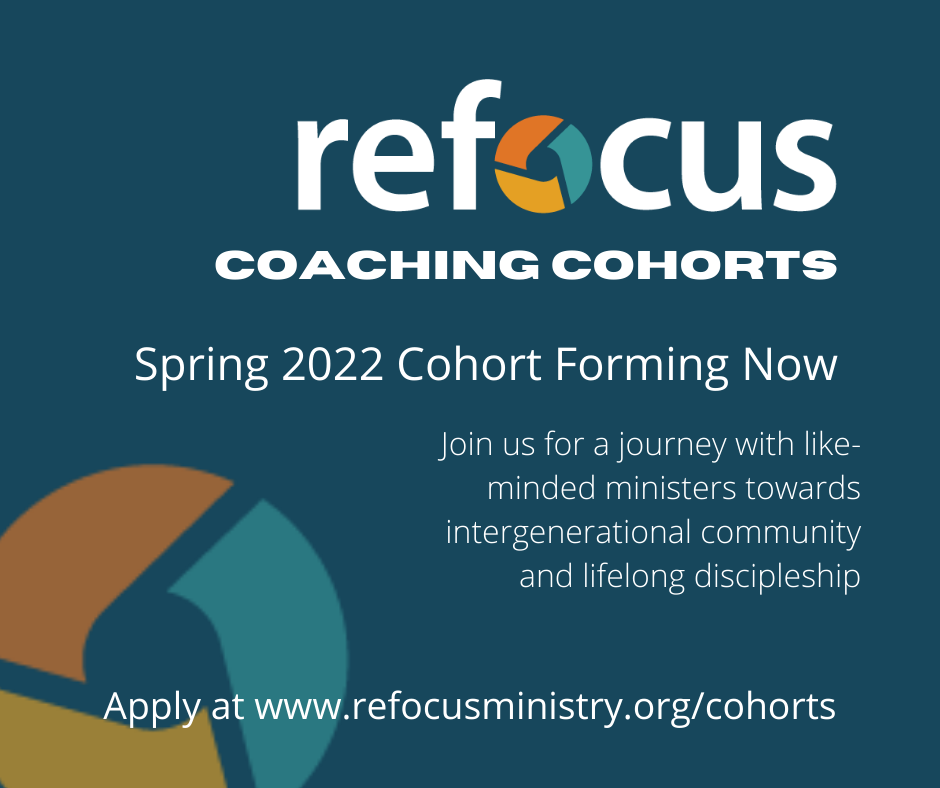 In February 2022, ReFocus Ministry is launching its inaugural Coaching Cohort, a 12-week program intended to provide ministry leaders with a community of fellow leaders ready to engage intergenerational community and generational discipleship on the next level. These cohorts will offer the opportunity to expand leadership skills in a twelve-week shared learning experience as a cohort group of 7-10 individuals from multiple faith traditions and church backgrounds. This cohort will meet weekly to explore and apply the principles of leadership in generational discipleship, intergenerational ministry, and church culture transition.
Obviously, this is not the answer to everything and for everyone…but it might be the answer for you. If you have ever said, "I am alone in this" then it might be time to discover you are not alone.
Since this cohort will be learning, growing, and journeying together, we do have to limit the number of participants for both confidentiality and mutual accountability but we are hoping that this will be the first among many cohorts that will come together and find a true community of fellow ministers who are on the same journey
If you are interested in being part of this inaugural Coaching Cohort, we invite to fill out the contact form below and we will send a follow-up email with application information.
Whether or not this opportunity is the right fit for you at this time, please know this – You are not alone. There is a growing community of ministers who understand that, as was stated in the last post from ReFocus, "We can dissect all the reasons that young people are leaving the church until we are blue in the face. Or we can begin to build relationships and community right now that will ensure deep roots and faith formation that lasts a lifetime."
---
ReFocus Coaching Cohort
12 Week Zoom Program (3 months)
Limited to 10 people
Cost: $1000/person (Inaugural Cohort, $750/person, 25% off)
Purpose
ReFocus Coaching Cohorts provide ministry leaders with the opportunity to expand their leadership skills in a twelve-week shared learning experience. Facilitated by an experienced coach, a cohort group of 7-10 individuals from multiple faith organizations meet weekly to explore and apply the principles of leadership in generational discipleship, intergenerational ministry, and church culture transition. Through extensive exploration, inquiry and dialogue, the coach and fellow cohort members help participants identify their role in generational discipleship within their faith community and deepen their leadership capability.
Benefits
Accountability and growth within a community of like-minded ministers
Access to resources available only to cohort members, including up to one year of monthly personal coaching
Coachable moments and collective learning within the group that can be addressed by both the coach and the other members.
Ability to participate in ReFocus presenter platform as a local ReFocus representative.
ReFocus cohorts provide a confidential, open environment for ministers to strengthen their effectiveness in 'real-time' situations. It is intended for people who have experience in ministry and are ready to build the skills needed to be leaders in generational discipleship and intergenerational ministry.
Included in Coaching Cohort Package
Twelve weekly trainings/Zoom calls with coach.
Choice of 1 webinar with resources for church/congregation (for use within one year of cohort start).
Family Faith Formation TALK TOOLS curriculum (Digital download available after first 12 weeks).
One year of monthly, 30-minute, one-on-one coaching conversations.
Access to private Facebook group for cohort members only.
Lifetime 10% discount on all ReFocus seminars, workshops, webinars, and/or coaching packages
For more information or to apply as a participant in our Spring 2022 cohort, visit our website at https://refocusministry.org/webinars-workshops/refocus-coaching-cohorts/
---
---
For more information about…
Check out to ReFocus Ministry or "like" our Facebook page. Join our conversation at theReFocus Family and Intergen Ministry group on Facebook.
About this Blog
Refocus Ministry was started by Christina Embree, wife to Pastor Luke, mom to three wonderful kids, and church planter at Plowshares BIC. She also serves as the Minister of Generational Discipleship with the Great Lakes Conference of the Brethren in Christ.
With years of experience in family ministry and children's ministry, she is passionate about seeing churches partnering with families to encourage faith formation at home and equipping parents to disciple their kids in the faith. She recently graduated with a Masters of Arts in Ministry focusing on Family, Youth and Children's Ministry at Wesley Seminary, she also blogs at www.refocusministry.org and is a contributing blogger at D6 Family, ChurchLeaders.com, and Seedbed.