BRING THEM TO CHURCH

Saturate their lives with the Word of God. Even if they lay on the floor. Even if they need 437 goldfish and a sucker to be quiet. Even if you stand in the back swaying back and forth holding them. Even when it's hard. Even when your row looks like a small hurricane just came through. Bring them to church. Let them see you worship. Let them see you pray. Let them see you running toward the Savior … because if they don't see and learn these things from you, who are they going to learn them from?…
This post makes its rounds on Facebook every few months and usually, I hit the "like" button and move on, but this time around… it's not been sitting right with me. I couldn't pinpoint what it was until today. I was reading it through again and I realized there was a really big, important, and frankly, necessary part of church that is utterly neglected in this post
It's the "church" part of church.
Because we all know and like to say "The church isn't a building, it's the people" and "The church isn't a service, it's a community." Recently, a megachurch pastor got in some hot water when he chastised his congregants for treating the worship service like a "show" and not spending time with each other before and after the service. But he was met with a ton of pushback online because people said, "Your congregants are just living into the environment you created. You made church a show, not a family, so you can't be angry when they treat it as such."
The social media post quoted above, however, runs the same risk. It's directed at parents and speaks only to them. Bring your kids to church. Let them see you worship. Let them see you prayer. And it even asks the question, "If they don't see and learn these things from you, who ARE they going to lean them from?"
The answer is… the Church.
Because bringing our kids to church should never be about bringing them to a building, a service, or a show. Bringing them to church should be bringing them to the people, the community, the family. It's about bringing them to Jesus and, in this case, the body of Christ, the church.
So often when we discuss discipleship and faith formation for children and youth, we center our discussion squarely on the parents/caregivers and their responsibility to raise children in the faith. And we have good reason to do so – parents are the primary influence of faith formation, caregivers have more time around and with children and youth than anyone else, and parents/caregivers are directly addressed in Scripture as those who are given the commission to impress the commandments of the Lord on their children.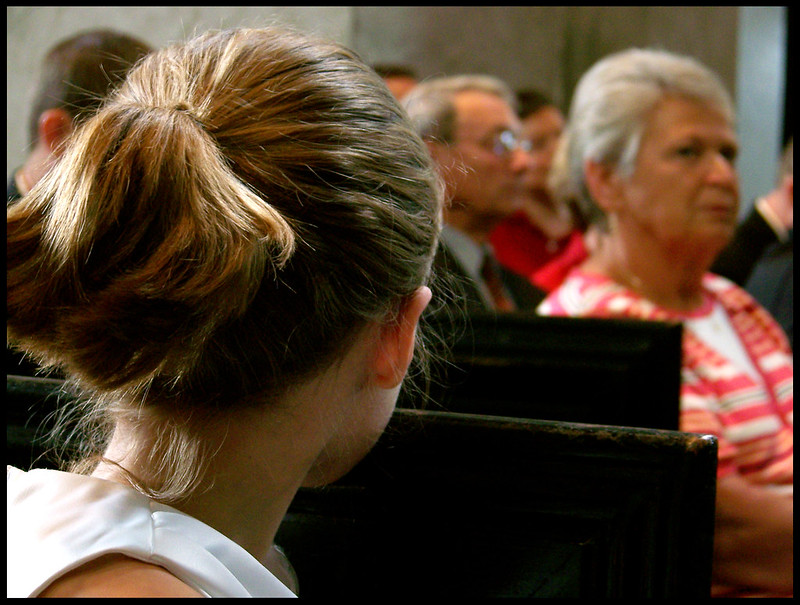 But all of this is set forth in the context of a community. And, for Christians, a Christ-centered faithful community who live out the mission of God in their communities and world.
Parents/caregivers are not lone rangers in this journey. As members of the body of Christ, we are all responsible for passing our faith to the next generation.
That's what doesn't sit right with me in that post. The sole focus of responsibility and the weight to model, discipline, and demonstrate the Christian faith is resting on the shoulders of already weary parents/caregivers. It's not that the post is wrong in what it says; if we go to church as a family, then our kids will see us worship, pray, and run after our Savior…but don't we also do (or should do) those things at home? What makes church different? It's that we are doing it in the context of a larger community, our body of believers, our faith family. And that is integral to what they see. They see that they are part of something bigger and that their family is not alone.
What if we gave it a little re-write?
BRING THEM TO CHURCH

Saturate their lives in Jesus and his body, the church. Even if they lay on the floor. Even if they need 437 goldfish and a sucker to be engaged and a coloring sheet or scribbling pad to participate. Even if you or your friend stands in the back swaying back and forth holding them. Even when it's hard. Even when the row you share with others looks like a small hurricane just came through.

Bring them to church. Let them see the body of Christ worship. Let them hear the prayers of the saints. Let them see a family seeking to love God and others together. Let them hear their name spoken by people of all ages. Let them be known, loved, and called. Let them know they are part of something bigger and they are needed, wanted, and welcomed. … because if they don't see and learn these things from the church, body of Christ, who are they going to learn them from?…
We need to take a more holistic approach to what church is or rather, who church is, and consider how we can bring our children and youth into that. If we mean it when we say that church is not a building, a program, a show or a club but rather a people, a community, a family or the body of Christ, then bringing our children to church is going to look a lot more like dinners together, lives shared, moments celebrated, and relationships forged in love. It's going to look a lot less like "Sunday morning" and a lot more like every day.
Yes, let's bring our children and youth to church. Let's help them to find lasting relationships built on love, trust, and faith, and let's endeavor to be the community of faith we claim to be! Bring them to church.
---
Give the Gift of Connection
We're thrilled to announce the launch of our "Give the Gift of Connection" campaign, starting mid-October and culminating on Giving Tuesday (November 28)!
Join us in raising $5,000 to provide 50 scholarships for churches to complete the Connect Generations Coaching Intensive. This program empowers churches to bridge generational gaps and bring communities together.
By supporting our campaign, you're not just giving to a cause; you're giving the gift of unity and stronger communities. Your contribution helps foster Generational Discipleship in churches across the nation. Together, we can make a lasting impact and bring generations together in 2024.
We invite you to join us in this mission to Connect Generations, transform communities, and foster lasting connections. Donate today!
Don't Miss It! Free Discipleship Resource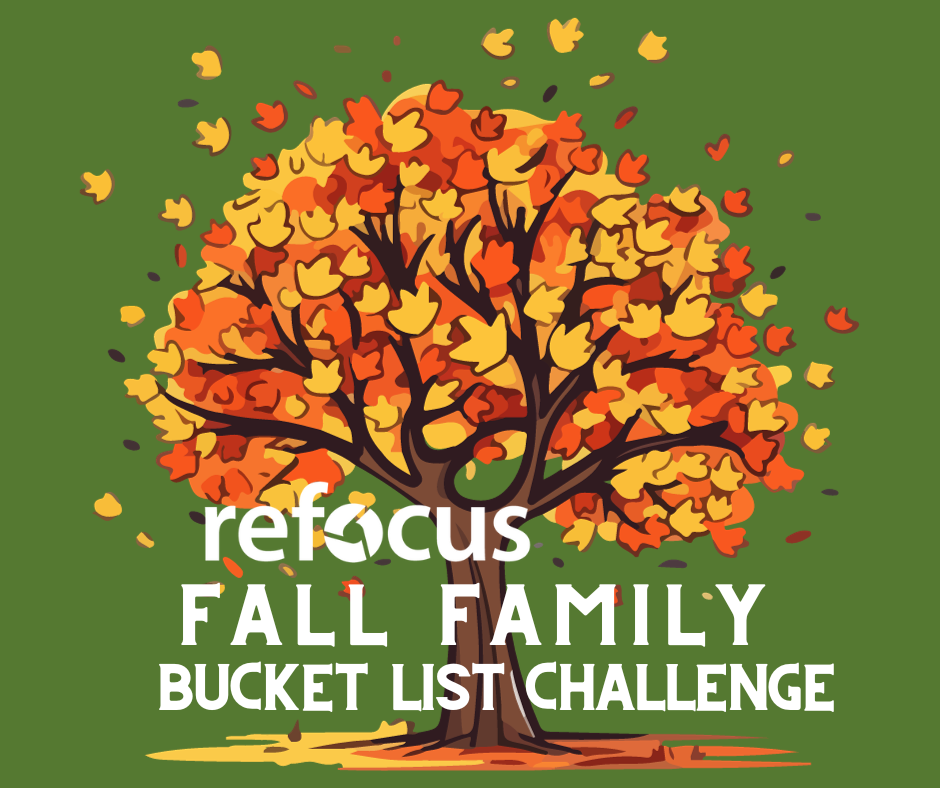 FREE Family Discipleship Resource from ReFocus Ministry for Fall (or Spring if you live "Down Under")
Gather the family together for a Bucket List Challenge; complete all the activities together before fall (or spring) kicks the bucket. Together you'll find new ways to pray as a family and have a lot of fun along the way! Download your free PDF with unlimited copies below.
About the Author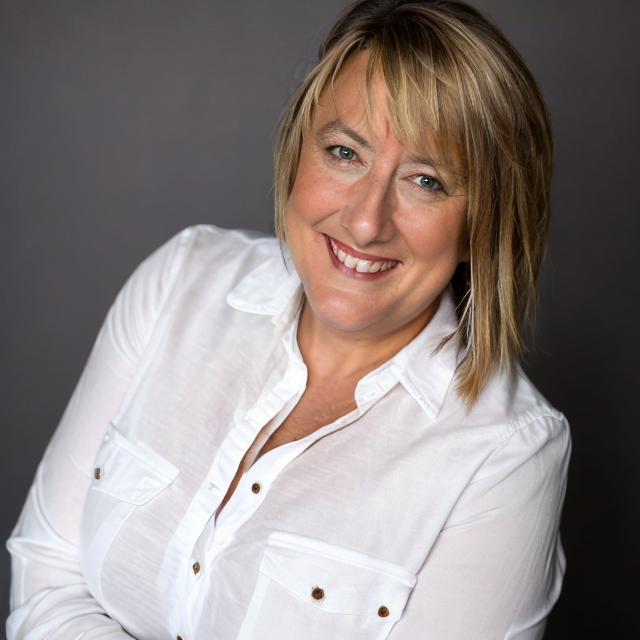 Christina Embree is the founder and director of ReFocus Ministry. She holds a masters in ministry focused on Children, Youth, and Family Ministry and a doctorate in spiritual formation with a focus on age segregation and intergenerational ministry. In addition to coaching churches of multiple denominations and traditions all around the globe, Christina serves as the Minister of Generational Discipleship for the Great Lakes Conference of the Brethren in Christ and as a pastor at Plowshares Brethren in Christ in Lexington, Kentucky. She is widely recognized as a speaker and author in the areas of generational discipleship, intergenerational ministry, and family ministry. As the mother of three children, she is familiar with the challenges of faith at home and pastoral ministry. She along with her husband Luke share a love for the church, their community, and the global work of peace and restoration through Jesus.