Intergenerational Community… what exactly does that mean?
When we talk about certain things, like community, we bring to the conversation all the defining characteristics of that thing that we've gained over our years. Martin Minsky calls these words "suitcase words"; words that need unpacked because they carry a lot of meaning.
For example the word, "Community" means different things to different people. Because I have read Living into Community: Cultivating Practices that Sustain Us by Christine Pohl, I include the practices of gratitude, promise-keeping, truth-telling and hospitality in my definition of community. But people who haven't read this book may not have all of those meanings in their "suitcase."
It's important to define what we are talking about before we start talking about it so, for this blog post, the term "intergenerational community" will be defined as:
Now that's not to say this definition is the "right" definition or the "only" definition; it's just the one we are going to use for the purpose of this post.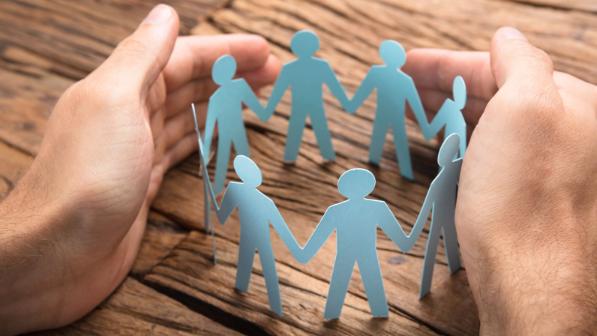 When sociologists talk about groups that gather together in community, they often talk about primary groups (more intimate, face-to-face, long-term) and secondary groups (impersonal, task-focused, time-limited). Our goal in establishing intergenerational community is for the church to be a primary group not a secondary one. Our gathering can't just be to fulfill the tasks involved in having a Sunday morning service, limited to an hour, and segregated by age. If our faith community is to be a primary group which wields the most influence, we need to be together in the same space, face-to-face, in meaningful ways.
Why is this important? Because we all have certain needs that can only be met in meaningful relationships found in rich community. To explore the importance of this for children, click HERE.
When we talk about a space being intergenerational, we want that place to be representative of the generations that are in our community. That doesn't mean every generation will be present at every event. But that also shouldn't mean the majority of the time, the people present in a space will be one or two generations.
It is not enough to simply gather multiple generations into a space and call it community. There must be the cultivation of meaningful relationships, a deeper meeting of spirits and a connecting to one another's humanity. This can often be done in very practical and simple ways if we are willing to get creative.
Resist the urge to "programmatize" relationship. That never works out well. Instead, find ways to provide opportunities both in the church building and outside of the church building for meaningful relationships to form. There are some ideas on how we can begin to do this in our community linked below.
The final part of creating an intergenerational community for children and families is to provide a space for all generations to be both teacher and student. If a church finds that it is consistently having only one generation act as the "teaching" generation and all others are in learning mode, lifelong learning is unlikely to be fostered. Each generation has unique gifts and worldviews to add to the conversation. Strive to find space for each to teach and each to learn.
Each of these elements (gathered community, multiple generations, meaningful relationships, learning/teaching) taken singularly leave an important part of intergenerational community out. If a church nails gathered community but doesn't foster meaningful relationships, the next generation has very little to bring them back when they are older. If a church knocks teaching and learning out of the park but limits generational involvement, then community will suffer from a lack of full participation.
Taken together however, these pieces of the puzzle can help lead to a rich and growing intergenerational community that extends beyond Sunday morning and into everyday life. And that is the key to true community; it has to be more than an event – it needs to be who we are, the church, the body of Christ.
---
Give the Gift of Connection
We're thrilled to announce the launch of our "Give the Gift of Connection" campaign, starting mid-October and culminating on Giving Tuesday (November 28)!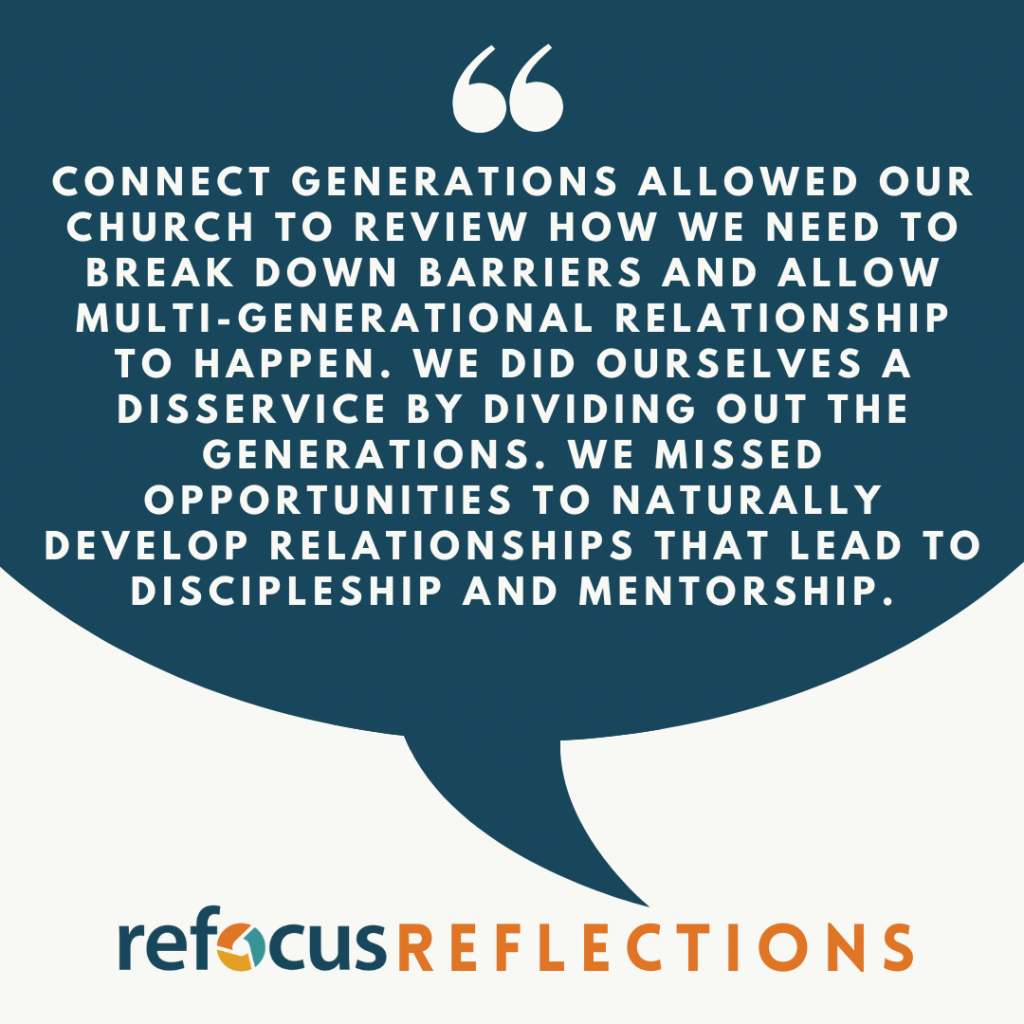 Join us in raising $5,000 to provide 50 scholarships for churches to complete the Connect Generations Coaching Intensive. This program empowers churches to bridge generational gaps and bring communities together.
By supporting our campaign, you're not just giving to a cause; you're giving the gift of unity and stronger communities. Your contribution helps foster Generational Discipleship in churches across the nation. Together, we can make a lasting impact and bring generations together in 2024.
We invite you to join us in this mission to Connect Generations, transform communities, and foster lasting connections. Donate today!
FREE ONLINE EVENT: REFOCUS ROUNDTABLE DISCUSSION
"Developmentally Appropriate Church"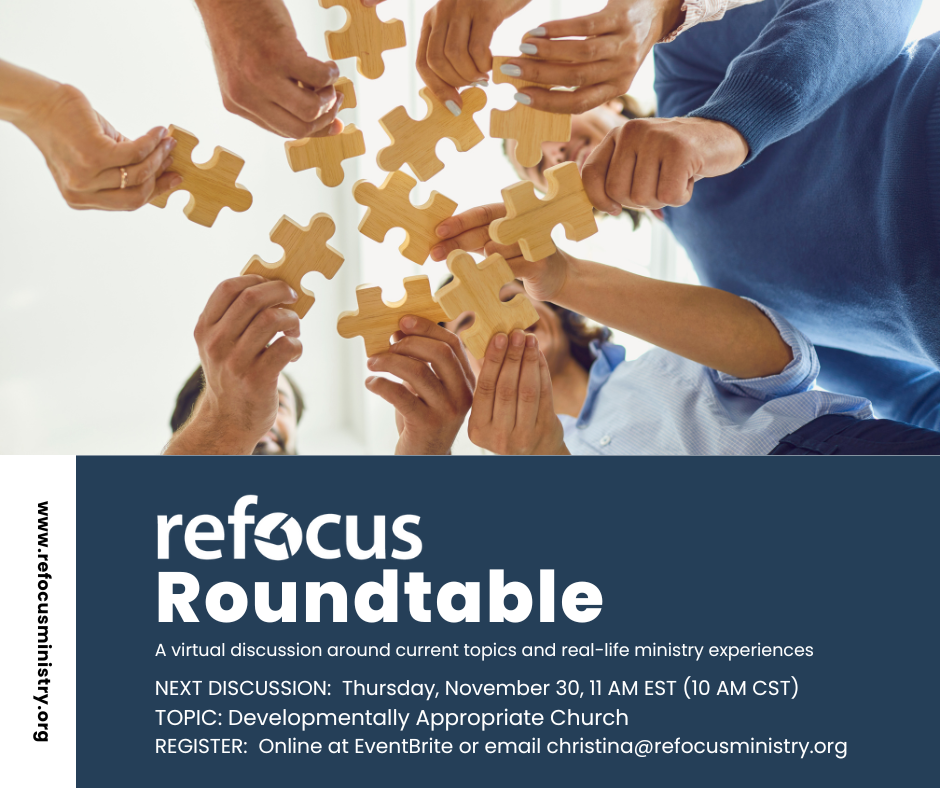 Often when we talk about including all ages in church, a major concern that gets raised is whether or not it is developmentally appropriate for everyone. This can be especially true when discussing the inclusion of children in the larger worship context. But sometimes this view is based on a narrowly defined area of developmental research and theories while a broader examination of developmental psychology can give us a broader view of what it means for something to be "developmentally appropriate."
ReFocus is hosting this online roundtable discussion for anyone interested in exploring the idea of developmentally appropriate church, specifically engaging all ages in our worshipping communities, and how research can inform our approaches to intergenerational faith community.
About the Author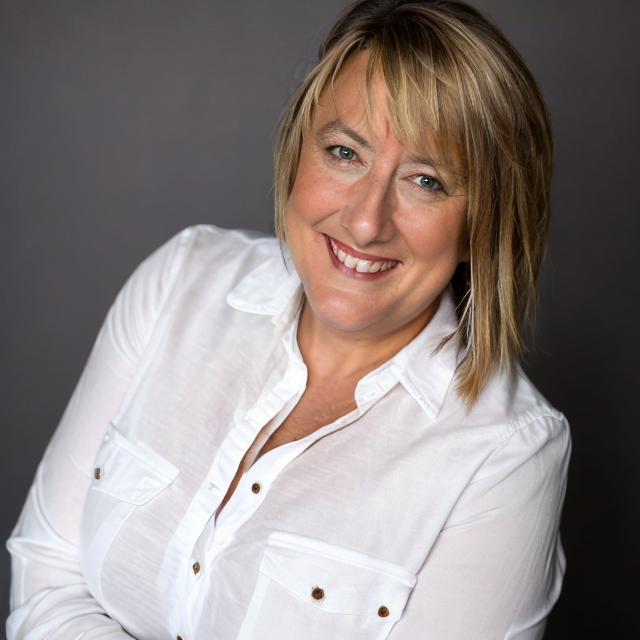 Christina Embree is the founder and director of ReFocus Ministry. She holds a masters in ministry focused on Children, Youth, and Family Ministry and a doctorate in spiritual formation with a focus on age segregation and intergenerational ministry. In addition to coaching churches of multiple denominations and traditions all around the globe, Christina serves as the Minister of Generational Discipleship for the Great Lakes Conference of the Brethren in Christ and as a pastor at Plowshares Brethren in Christ in Lexington, Kentucky. She is widely recognized as a speaker and author in the areas of generational discipleship, intergenerational ministry, and family ministry. As the mother of three children, she is familiar with the challenges of faith at home and pastoral ministry. She along with her husband Luke share a love for the church, their community, and the global work of peace and restoration through Jesus.